Connecticut State Senator
Martin Looney
"I am very proud of my father and all that he did to establish that union," (IAM Victory Lodge Local 609.)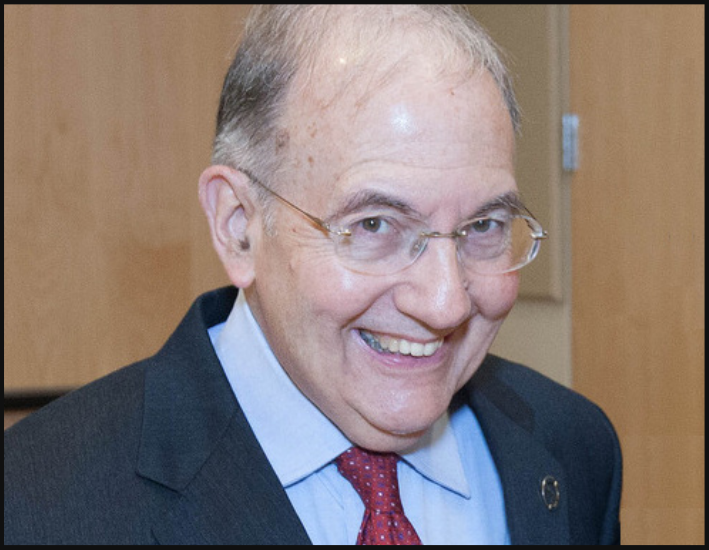 Martin Michael Looney is a Democratic State Senator representing Connecticut's 11th district which encompasses parts of New Haven, Hamden and North Haven CT. He is President Pro Tempore of the Connecticut State Senate, as well as an attorney primarily engaged in criminal defense work and an adjunct professor at Quinnipiac University and the University of New Haven. He was born in New Haven in 1948 while his parents lived at 700 Boulevard in veterans' housing. (His father was a World War II veteran.) He was raised from the age of five on Woolcott Street in the Fair Haven section of the city.

Sen. Looney's parents were born in County Clare, Ireland. Both came from farm families. His father, Martin Francis, had older siblings already living in Fair Haven and joined them in 1927, when he began working for the New Haven Railroad. His mother, Mary, came to the United States two years later, to help her sister who was living in New York. She worked as a governess, and later, at a hotel in the City, where she was a member of the Hotel and Restaurant Workers union. She was encouraged to run for union office, but did not do so.

Martin and Mary Looney met at an Irish dance at Rockaway Beach in 1938 and married in 1942. Martin Francis was 48 when Martin Michael was born. Both parents "were New Deal Democrats who believed in an activist government," a tradition that their son inherited.
Mrs. Looney as "Rosie the Riveter"

As he approached 40, in 1940, Martin Francis Looney left the railroad and went to work at the Winchester plant, driving a jitney and operating a forklift. Mary Looney also worked at the plant from 1942 until 1946, doing piece work making bullets and shells. She was known as "fastest" on the machines, and many of her co-workers, also mostly women, wanted to work with her because they knew her skill would help everyone earn bonuses. Looney notes that as "part of the Rosie the Riveter generation," his mother excelled at the work but did not remain at the plant after the war years. After Looney's graduation from Notre Dame High School in 1966, Mrs. Looney went to work as a cook at the St. Rose Convent.


"An industrial job was a decent paying job...[enough] to support a family."


"Our family's standard of living definitely improved" thanks to the union, Sen. Looney recalls. He was able to attend Notre Dame High School, and later Fairfield University and the University of Connecticut Law School where he received his J.D. His parents were "able to save" a modest amount of money. "An industrial job was a decent paying job ...[enough] to support a family." In addition, higher education was much less expensive "than it is today."

Very few Winchester workers came from the Looney family's neighborhood in Fair Haven. They did not have a car, so Looney, Sr., had to catch a bus every morning at 6:15 a.m. to get to the plant. "I never saw him on a week-day morning until he retired," Sen. Looney recalls. His father worked the 7:30 to 3 shift and got home at 4. "By the time he retired, I was staying up later than he was" in order to do homework.

Because they lived in Fair Haven, the Looneys didn't often mix with too many other Winchester workers and their families, most of whom came from the Dixwell-Newhallville communities, although "we used to go to an outing [there] in the summer" which included barbecues, picnics and ball games.


The Company in its Latter Years

In Sen. Looney's view, the Machinist Union's attempts to revive product diversification and to implement the High Performance Work Organization at Winchester in the 1990s failed, in part, because "the real control of the company was not local at that point. The [plant] had become a division of a larger group that had other goals and concerns [and] wanted to keep the strongest known Winchester brand- the guns. There was no local autonomy."

Winchester kept its "brand," but the company located in New Haven was owned by many different entities throughout its history. Peaking in the war years, employment began to decline in the mid-1960s throughout the 1970s, and to shrink rapidly in the 1980s and 1990s. Although there were many issues in the bitter 1979-1980 strike, Sen. Looney, who was working at the time as an aide to New Haven Mayor Frank Logue, cites as an important one the growing concern among workers about repeated layoffs and the need to maintain guaranteed levels of employment.

Throughout the 1980s and 1990s, the City of New Haven continued to provide the company with major tax incentives in exchange for promises to keep a certain number of workers employed- but the "guaranteed" numbers kept shrinking. The company repeatedly went to the city to renegotiate its agreement, setting the required numbers ever lower.

Although the Connecticut state legislature passed a bill in the early 1980s requiring companies who employed a certain number of people to give its workers six months' notice before closing, the Winchester plant's "catch-22" to avoid doing this may have been the already small numbers employed there in its last year.


"Connecting the Dots:"
Labor History Education
Because of his background, Sen. Looney says he's been pro-labor throughout his career as a legislator, supporting wherever possible the struggles of organized labor. He believes that the existence of unions has improved the overall social welfare of everyone in this country "because they set a community standard of living that everyone benefited from, union or not."

"The role of labor and its contribution to the quality of life has not been taught sufficiently in schools and families," but is a critical component in education because people "had to strive and suffer" to win the gains that we now have. Nothing that has been achieved to date was a "given...." In all of history, nothing - including the U.S. Constitution- was a foregone conclusion: "Things today are as they are because of the sacrifices people made" in the past. "We need to connect the dots."


Moving Forward
"Without a high level of education," there is "no way to make a good living" today, says Sen. Looney. Most of the new jobs being created are low paid, non-union jobs in the service sector of the economy. The percentage of workers in the private sector who are unionized is down below 10%. "We need a new set of organizing campaigns, like went on in the '30s, '40s and '50s to really motivate people. [There is] a need for a new union movement to create more union jobs to elevate the [general] standard of living."