Alfred Marder
"I can remember my mother saying to me... [about a neighbor] 'He has a good job at Winchester.' This to my mother was achievement."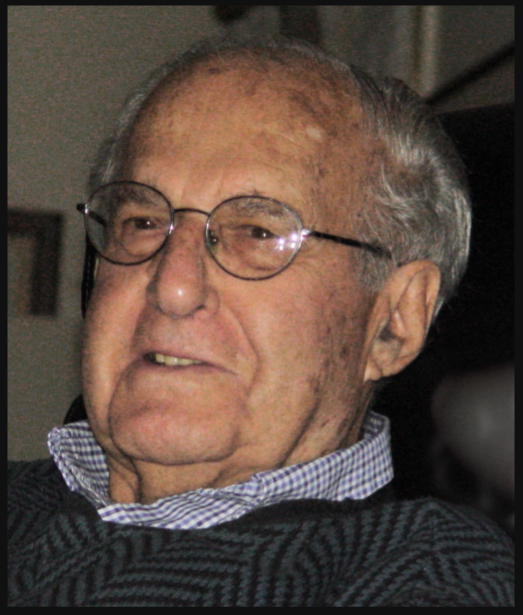 "Working at Winchester was tied to everything else I did." Al Marder was born in the back of a store on Spring Street in West Haven, and raised in New Haven where his parents had a "little impoverished store on Oak Street...It provided a very poor living for them." At one point, they had a four room house on Davenport Ave. in the Hill, where he "slept on a sofa." His mother, an immigrant, had had a short term job at Winchester, but she "never told me what she did." He also had a stepbrother who worked there later, at the same time he was at the plant. Marder's short time working at Winchester himself was "tied to everything else I did." Early on he became part of the "leftist youth movement" and became the chair of a peace group at Hillhouse High School, where "many of us came from poor, immigrant families. The topics of the day were social issues- the rise of fascism, discrimination...The Depression was the umbrella under which we operated."
"Winchester was part of my neighborhood...but it was not on the union's agenda...it was these other shops...
While he was a junior in high school, the United Electrical Workers Union began trying to organize in the area, at Sargent's Manufacturing Company and other plants. He was "one of the few young people who had [access to his father's car]," and he would get up very early, push the car without starting it out of his family's yard in order not to wake his parents, and then go to distribute flyers with the union at these shops. Then they'd come back, push the car onto his family's lawn, and he would "go back to bed, fully dressed. This went on for months...Many years later, my mother said, 'You thought we didn't know what you were doing? But I told your father, 'no use trying to stop him, he's going to do it anyway.'"

As a member of the Youth Conference of the Young Communist League, Marder went to work at the Waterbury Brass & Smelter Plant. He remembered that they dealt with "all the issues...the fight for the eight-hour day, the fight for social security, decent wages, seniority, the end of discrimination...We were all socially aware."

By the time he was a junior in high school, Marder's family lived on Shelton Terrace., and "Winchester was part of my neighborhood... We got up and went to sleep by the sound of the whistle." Nevertheless, it "just stood out there" and "was not on the union's agenda."

That changed when World War II intervened.


Winchester's War Boom
Al had graduated from high school and, despite his desire to "become a union organizer" and forego college, he was prevailed upon to reconsider. He went on to one year at City College in New York, considered "the Harvard of New York," attended by "children of immigrants all striving desperately to achieve...The competition was fierce." Al was more interested in being a student leader and an organizer than in paying attention to his studies. He was told by the administration "maybe it's better if you leave," because of his political affiliation and the "poisonous atmosphere" beginning to manifest in government investigations of the school system that would culminate in the "Red Scare" of the late 1940s and 1950s.
Winchester's war boom sparked the United Electrical Workers union's interest in organizing the plant. They now "realized that Winchester stood there and they were recruiting from the south and feeding the war effort abroad." UE organizers approached Marder after he returned to New Haven and asked him to apply there. He got a job as a laborer "carrying boxes of casings to the workers operating the machines" and was "under the strictest discipline not to talk to the union." His purpose there was to scout the situation out, to find "friends," and generally "get the lay of the land," as Lula White, interviewer, put it.
But after several months, Marder was "found out...of course. One day the company police came and said, 'You're through.'" Later, when he examined his own FBI files, he saw that the FBI had gone to the company with information about him and his likely motive for being there.
"I [later] realized...that the effort was unlike Brass Valley, Sargent's, Armstrong Rubber,] where we succeeded... Winchester was just a hold-out."
Marder later joined with UE's organizing efforts at Winchester from the outside, but "the atmosphere was not conducive...We didn't have those who were willing to take up the cudgels. We couldn't find them. ..[For] the flood of people [coming from the South who] were not New Haveners...[it was] the first factory job they'd ever had." And the war itself was another mitigating factor: "Once the war began, there was a general attitude that everyone had to pitch in to the war [effort]. That was the attitude even in the trade union movement: 'Don't press'...People bought into that...even though fortunes were being made and Roosevelt tried to impose a $25,000 pay limit for executives and the president of Sears Roebuck had to be thrown out" because he would not comply.
Interviewer Lula White cites the example of the auto workers as "kings of the labor movement," whose militancy in the union effort "gave Blacks access to the middle class" and produced strong Black leaders in the trade union movement. Al Marder says he "always wondered about Winchester's relationship to the autoworkers "because they too had come from the South. But look how militant they were."
Ultimately, the UE effort at Winchester was "not successful. I realized...that the effort was unlike the Brass Valley, Srgent's, Armstrong Rubber where we succeeded. Winchester was just a hold-out."